Creating Your Library Account
Creating a library account allows you to monitor the library items you have checked out and to renew items that are already checked out to you. In addition, you will be able to utilize the Favorites and Tagging features of the Library online catalog.
For students and faculty in Illinois, creating a Library account is also necessary to request books through the online I-Share catalog. I-Share is an integrated library system that serves 90 academic libraries in Illinois.
First, access the Crowell Library's website at: http://library.moody.edu
You can access the Crowell Library online catalog by clicking on "Search" in the Catalogs tab of the second search bar:

You can bookmark https://i-share.carli.illinois.edu/vf-mbi for easy access to the online Library catalog in the future.
Click on the Login link located at upper right corner of the Library search screen:

Clicking on the Login link will take you to Moody's Single Sign On (SSO) page: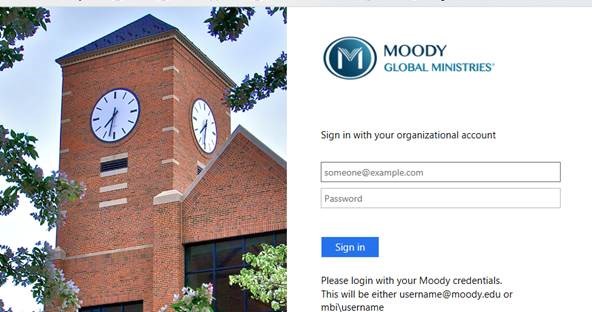 Note that your Moody SSO username includes "@moody.edu", but otherwise is identical to your myMoody credentials: username@moody.edu + your myMoody password.
Once you have logged in with your Moody SSO credentials, you will be looking at your library account page: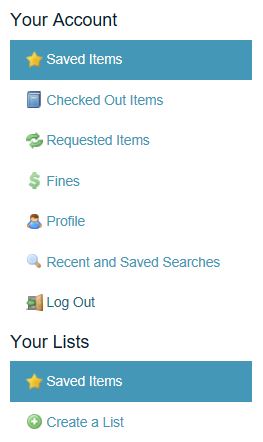 The very first time you use your library account for any activity -- looking at your checked out items, checking to see if you have any library fines, placing a request for I-Share materials -- you will be asked to establish your library profile by providing your 14-digit library barcode number: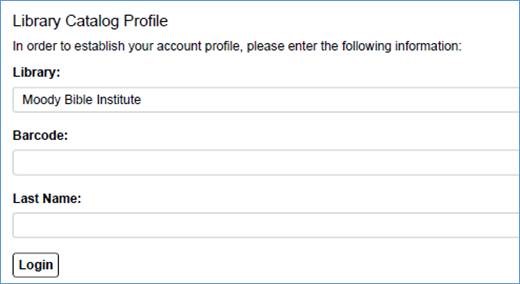 You will only have to provide your library barcode information once and it will be saved in your library profile.
If you do not have a 14-digit library barcode on the back of your Moody ID card, please contact the library for assistance at (312)329-4136 or by sending an email to library@moody.edu.
When you are done using your online library account, always logout of your account both by clicking "Log Out" and by closing your browser to make sure you are completely logged out.